featured: Unique Ripples Shawl in Uneek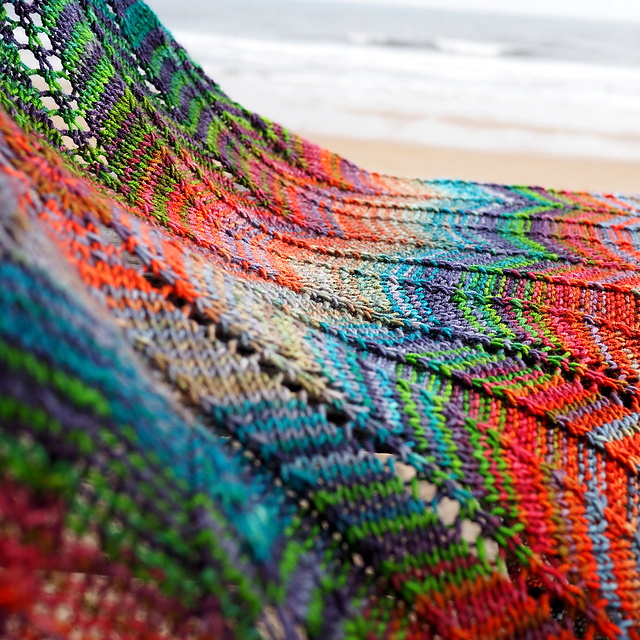 featured: Unique Ripples Shawl in Uneek
Price in Canadian Dollars; FREE shipment if you spend $150 or more (US/Canada); low shipment flat rates! Convert Can$ to US$ HERE
The Unique Ripples Shawl by Susan Ashcroft was designed exclusively for Magical Knits. This is a true Canadian kit, designed by a Canadian designer (read more about Susan Ashcroft below), and curated with love in Western Canada.
The pattern is designed to highlight a long-striping yarn: it's adjustable so you can use your favourite weight (fingering - worsted). The sample in the photos was knitted with Uneek Fingering 3009 (Pick 1). Picture 4 shows Uneek knitted with 2 different size needles - the red is on 4.5 mm/US7 for a loftier effect (good for summer); the blue is on 4 mm/US6 for a denser fabric (good for all seasons).
Before you start, it's a good idea to look at your wound yarncakes and decide which colour you want to start with - this will set the tone for your shawl and is one of the ways you can make your shawl unique!
Urth Yarns is a family owned brand specialising in hand dyed natural yarns. Utilising innovative dying techniques, in combination with the skilled hands of women.
Uneek Fingering by Urth Yarns is composed of rich vibrant colours with an earthy feel, and exceptional softness in every skein! 100% Extrafine Merino. Urth Uneek stands for a "uneek" knitting experience. Super soft! This Unique Ripples pattern has been especially designed to highlight the shades and striping of this yarn.
If you want to purchase the yarn only, visit our online yarn shop for Uneek Fingering by Urth Yarns
yarn pick - see photo below:
Make your choice of shade:
(Please be aware that the colours shown may vary from screen to screen)
this pattern is also available as a kit with Berroco Medina!
included in this kit:
printed pattern

2 skeins a 100 g of Urth Uneek Fingering of your choice

the electronic pattern will be emailed to you after purchase
skill level: intermediate
washing instructions: machine wash cold, delicate cycle, lay flat to dry
to make it a complete kit we recommend: for peace of mind go to the SUPPLIES page and add:
about the designer: Susan Ashcroft is a Canadian knitting designer whose family live in Campbell River, BC who now lives and works in Brussels, Belgium. Most of her patterns are published as Stitchnerd Designs. She published over 200 designs on Ravelry and some in printed publications such as Vogue Knitting. Susan says about herself: "I love all types of stitches, but particularly knitted or quilted ones".
Other Magical KnitKits you may also like: