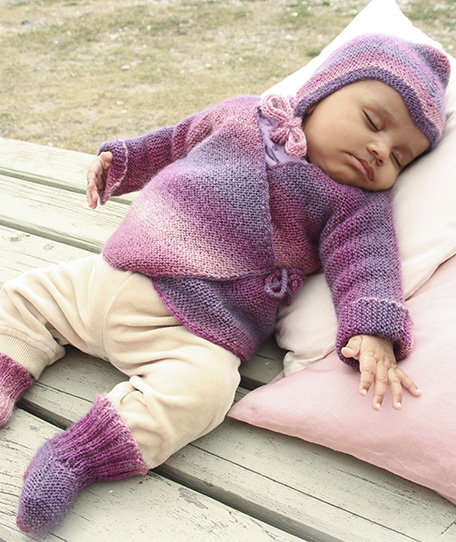 Sweet Evelina Baby Set
Price in Canadian Dollars; FREE shipment if you spend $150 or more (US/Canada); low shipment flat rates! Convert Can$ to US$ HERE
This unique baby set by Garnstudio consists of a knitted wrap-around jacket in garter stitch, socks and hat for baby and children in DROPS Delight; the pattern covers ages from 3 months up to the age of two.
DROPS Delight by Garnstudio is a luxurious and super soft wool yarn in many fabulous colours! It is a self-striping single stranded yarn, made with superwash treated wool and strengthened with polyamide. An exciting and machine washable yarn.
Besides having a nice handspun texture with small thickness variations, the "magic print" technique used on the colouring of DROPS Delight provides unique patterns and smooth colour transitions, meaning also that within one dye lot, lighter or darker varieties might appear.
The set in the photos is knit in the shade of Pick 1.
yarn pick - see photo below:
Make your choice of shade:
(Please be aware that the colours shown may vary from screen to screen)
included in this kit:
printed pattern

6 balls of DROPS Delight at 50g, shade of your choice (for jacket, hat and socks)

the electronic pattern will be emailed to you after purchase
skill level: advanced beginner
stitches/techniques involved: garter stitch
washing instructions: machine wash gentle
to make it a complete kit we recommend: for peace of mind go to the SUPPLIES page and add:
You may also like: