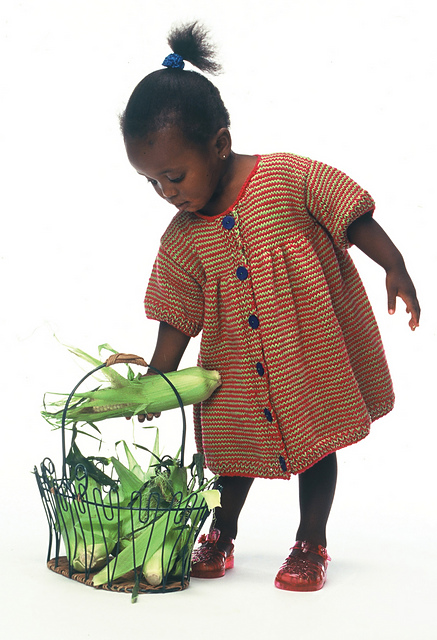 Swedish Day Dress
Price in Canadian Dollars; FREE shipment if you spend $150 or more (US/Canada); low shipment flat rates! Convert Can$ to US$ HERE
The Swedish Day Dress by Jil Eaton is one of six gorgeous patterns of the Jil Eaton's e-book "All dressed up", six patterns for kids big and small. Bonus: the complete e-book is part of this KnitKit at a special price!
One-row stripes give thos cotton dress with front buttons and short sleeves Scandinavian flair. The swingy, comfortable silhouette makes this the perfect playdress.
We chose Jil Eaton's Cotton Tail yarn for this cute dress. 100% cotton, CottonTail's cabled fiber is smooth in your hands and lovely to wear against your skin. This machine washable yarn is available in gorgeous, saturated colours.
yarn pick - see photo below:
Make your choice of shade combination:
(Please be aware that the colours shown may vary from screen to screen)
included in this kit:
printed pattern, from Interweave (full e-book for 6 cute patterns)

8 or 10 balls of Jil Eaton Cotton Tail a 50g, shade combination of your choice

6 matching buttons 0.75" (2 cm)

the electronic pattern book will be emailed to you after purchase
skill level: beginner
washing instructions: machine wash and dry, gentle
to make it a complete kit we recommend: for peace of mind go to the SUPPLIES page and add:
You may also like: