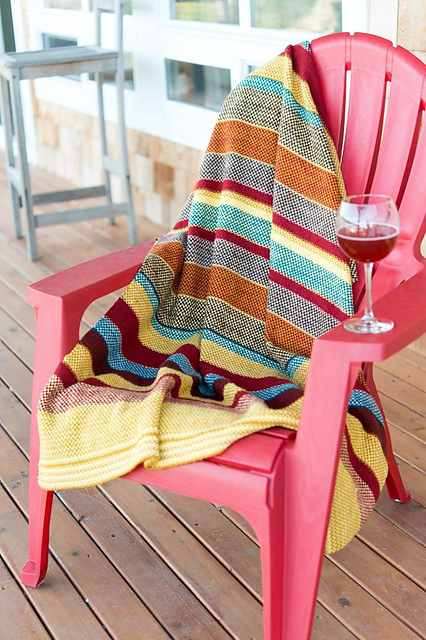 Ravet Blanket
Price in Canadian Dollars; FREE shipment if you spend $150 or more (US/Canada); low shipment flat rates! Convert Can$ to US$ HERE
Does this look like a Summer project!?
The Ravet Blanket is a beautiful work of art, inspired by John Ravet's Fiber Factor submission for Challenge # 2, the "Jaisalmer Pullover", and is made completely in Linen Stitch.
Featured Yarn: Simplicity by HiKoo, 55% Merino, 28% Acrylic, 17% Nylon; 117 yds / 50g hank.
Simplicity is a value yarn that is an excellent choice for afghans, children's wear, and anything else that gets daily use. This machine washable wool blend feels like butter in your hands while knitting, but is a true "work horse" of a yarn.
If you want to purchase the yarn only, visit our online yarn shop for HiKoo Simplicity
The blanket consists of these shades of HiKoo Simplicity:
(Please be aware that the colours shown may vary from screen to screen)
included in this kit:
printed pattern

22 hanks of Simplicty by HiKoo a 50g:
7 hanks of A - #42 (Buttercream)
5 hanks of B - #48 (Hillcreek Gold)
4 hanks of C - #46 (Crimson)
2 hanks of D - #35 (Turkish Coffee)
2 hanks of E - #27 (Nile Blue)
2 hanks of F - #20 (Chocolate Milk)
the electronic pattern will be emailed to you after purchase
skill level: beginner
washing instructions: machine wash cold wool cycle
finished measurements: 36" x 65"
to make it a complete kit we recommend: for peace of mind go to the SUPPLIES page and add:
You may also like: