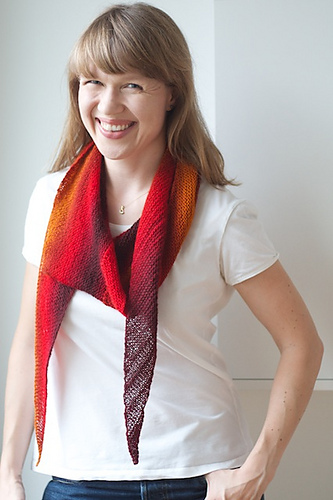 Easy Shawl
Price in Canadian Dollars; FREE shipment if you spend $150 or more (US/Canada); low shipment flat rates! Convert Can$ to US$ HERE
This is easy and colourful!
The Easy Shawl is designed by Martina Behm. She says: "Shawlettes in garter stitch are my favorite: They look great in a colorful yarn, they are squishy and warm around your neck, and they are so easy to knit that even beginners will enjoy making them. This shawlette is named "Easy" because it is just that: So simple to knit, but the biased construction and change of knitting direction will bring out the best of a multicolored yarn. It is long and skinny and can be wrapped around several times, or tied with a knot – and it uses only one ball of fingering/sock yarn."
Length: ca. 200 cm (80 inches), Depth ca. 24 cm (10 inches)
Crazy Zauberball is a self striping Schoppel Yarn from 75% Superwash Wool with 25% Nylon. The original Zauberball has been kicked up a notch, as two strands of the main ply have been dyed individually and then twisted together for a crazy combination! The end result is a self-striping multi-coloured pattern, with a bold variegated design!
yarn pick - see photo below:
Make your choice of shade:
(Please be aware that the colours shown may vary from screen to screen)
included in this kit:
printed pattern

1 ball of Crazy Zauberball by Schoppel at 100 g as shown above

the the electronic pattern will be emailed to you after purchase
skill level: beginner
washing instructions: Machine wash gentle, dry flat
to make it a complete kit we recommend: for peace of mind go to SUPPLIES and order:
You may also like: